A smart link will detect what device your customers are using and take them to the according app store when they click the link.
For example:
Customers using iPhones will be taken to the iTunes Store
Customers using phones on the Android operating system will be taken to Google Play Store
Related Links
Creating Smart Links
1. go to http://smarturl.it
2. Paste the the iTunes URL for your app into the Default URL section
Next to Device Destinations first select iPhone from the drop down menu and paste the iTunes URL for your app here
Then select Android in the second drop down menu and paste the Google Play URL for your app in the box adjacent
4. Tick the I'm not a robot box and click Save smartlURL at the bottom of the screen
5. After you've clicked Save smartURL you will need to copy the link and create a short link How to create a short link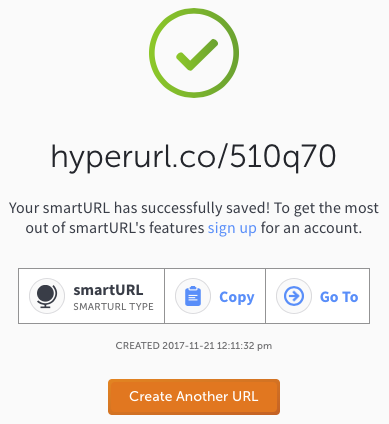 6. Once you have created your short link you will need to edit the title and customise the link, in this case:
Title: Hawker and Roll app
Customize: bit.ly/HawkerandRollApp
7. Click Save, now you have created your smartlink!