What is SFTP?
Secure File Transfer Protocol (SFTP) is a file protocol for transferring large files over the web. In essence, it is transferring data from one computer to another in a secure fashion. Some clients use Data Intelligence companies or have automated tools that can consume a report automatically.
Related articles
How to set-up a report to be sent via SFTP?
Log into LOKE Office
From the Hamburger Menu select LOKE Labs
Select Scheduled Reports from the top toolbar
Select the report you want to configure
You are able to amend the name if you want to
Select SFTP in the Send Via drop-down
Click manage destinations

8. Select New in the pop-up

9. Enter the destinations with the following information
Host:
(aka server address, ip address, server) this is the destination where the files will end up. This is will either be in the form of an IP address (112.222.198.1) or a URL (sftp.loke.global)
Path:
(aka folder, directory) this is a non-required field used if the reports need to placed in a specific folder in the destination server. This will be a folder path, something like data/loke/sftp. Please note, that generally there is no / at the start and we are regularly provided this path with a / at the start
Port*:
this field tells LOKE on what port to contact the server on. This will be a number between 1-65,536
Authentication*
There are 2 ways to use LOKE to connect to a SFTP server, either:
Username & Password:
this is the standard, nice and easy
- - - OR - - -
Username & Public/Private key:
this is a little more complicated. When saving a new destination in LOKE Office (more on this below) LOKE will generate a public/private key pair and store the private part securely in our database and display the public key in the interface. The merchant will need to be provided this public key.
*required
if you are using public/private key then you just leave the password field blank.
10. Once you have entered all the information, click on Save this will save the destination details which you will be able to re-use to send other reports.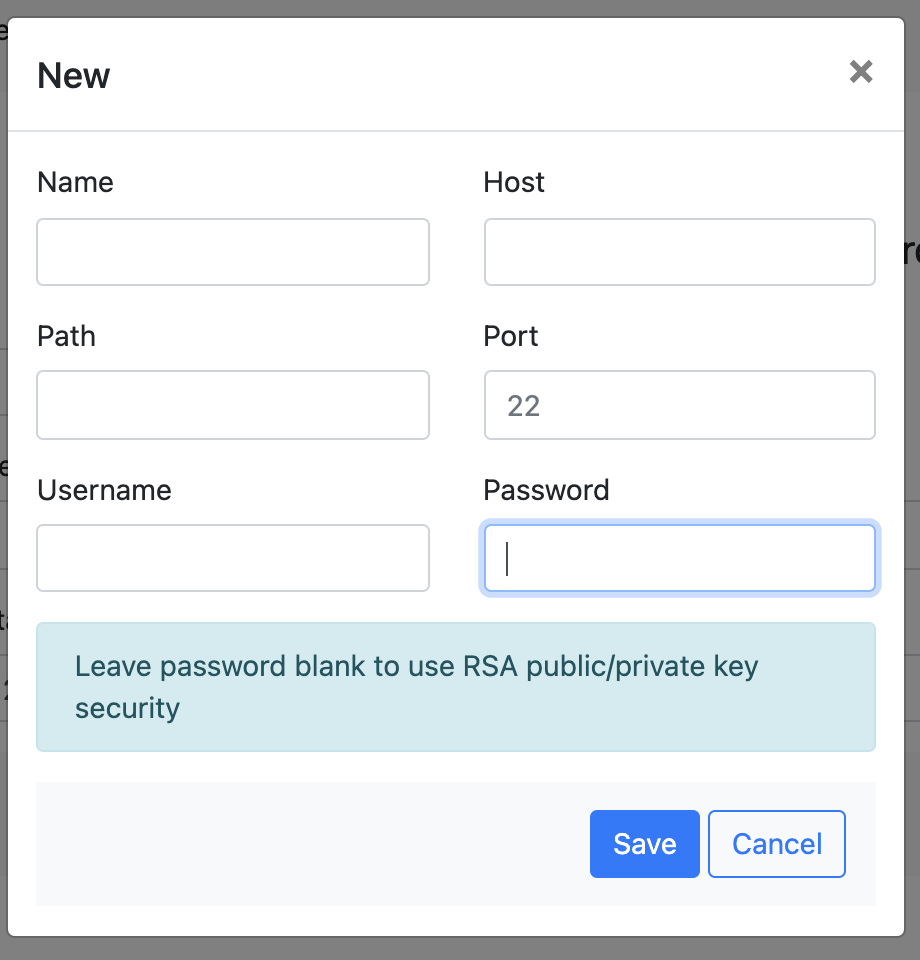 You can test the connection works correctly by clicking on Test. Once you are happy close the modal box.
11. Select the frequency and the date the report needs to start from and click on Save.