Marketing strategies for your app launch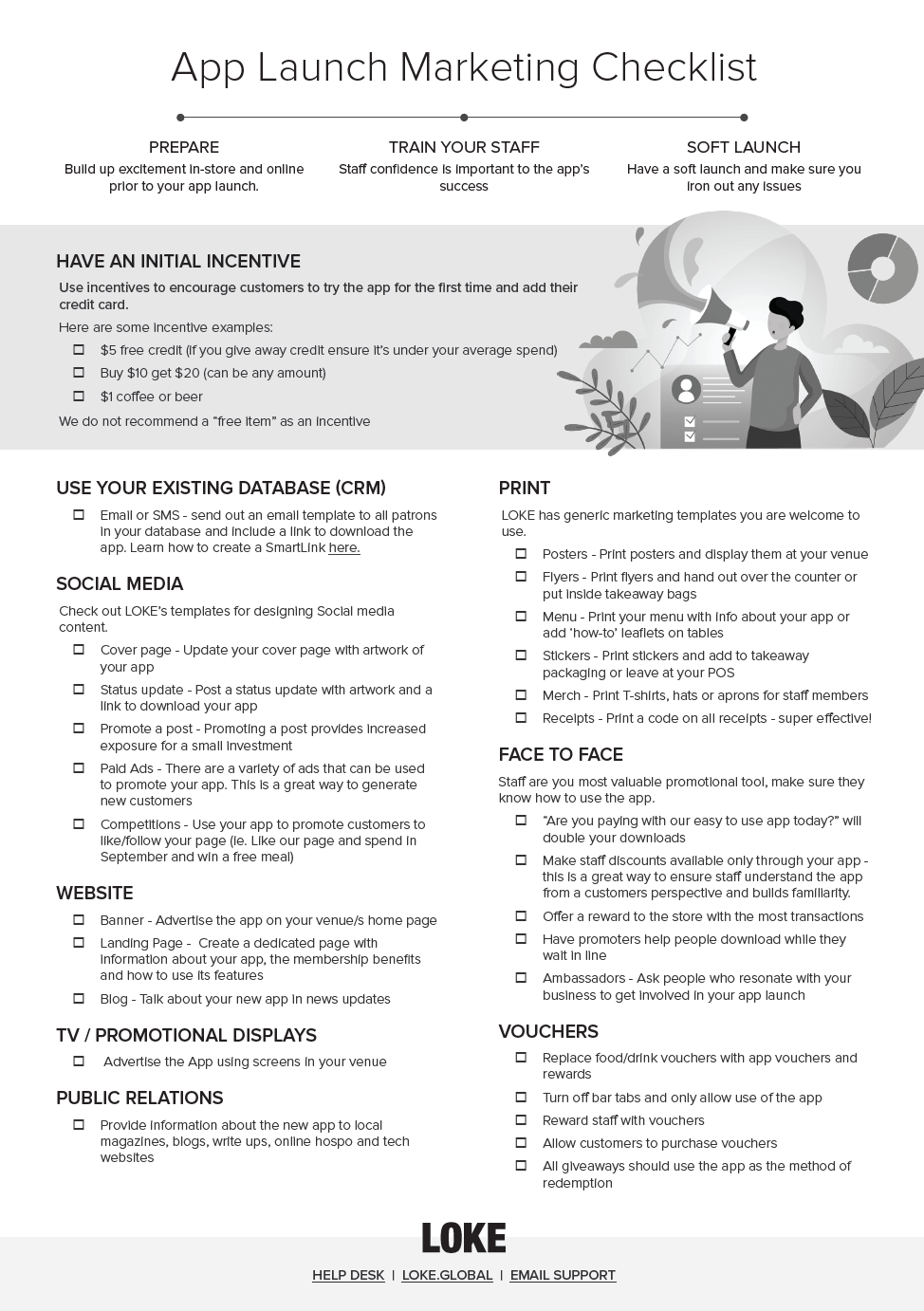 Marketing your loyalty app
When it comes to marketing your loyalty app, it is vital that your customers:
Know about the app

Can access your app easily (Check out our guide on creating a SmartLink and QR Code here)

Have a good selection of loyalty promotions to engage with
Rewards
A strong reward system will promote greater engagement. We, therefore, recommend that you kick-off with at least 5/6 initial promotions and that you focus on 3 core elements:
A

strong welcome promotion

- to drive initial engagement and incentivise users

Exclusive

promotions for app users only

Promotions that

allow users to 'spend' their loyalty points

. E.g. credit, items etc.
Your initial incentive
Use incentives to encourage customers to try the app for the first time and add their credit card.
Here are some incentive examples:
$5 free credit (if you give away credit ensure it's under your average spend)
Buy $10 get $20 (can be any amount)
$1 coffee or beer
We do not recommend a "free item" as an incentive
Use your existing database (CRM)
Email or SMS - send out an email template to all patrons in your database and include a link to download the app. Learn how to create a smart link here
Social Media
Check out LOKE's templates for designing Social media content
Cover page - Update your cover page with artwork of your app
Status update - Post a status update with artwork and a link to download your app
Promote a post - Promoting a post provides increased exposure for a small investment
Paid Ads - There are a variety of ads that can be used to promote your app. This is a great way to generate new customers
Competitions - Use your app to promote your page and vice versa (ie. Like our page, spend in September and win a free meal)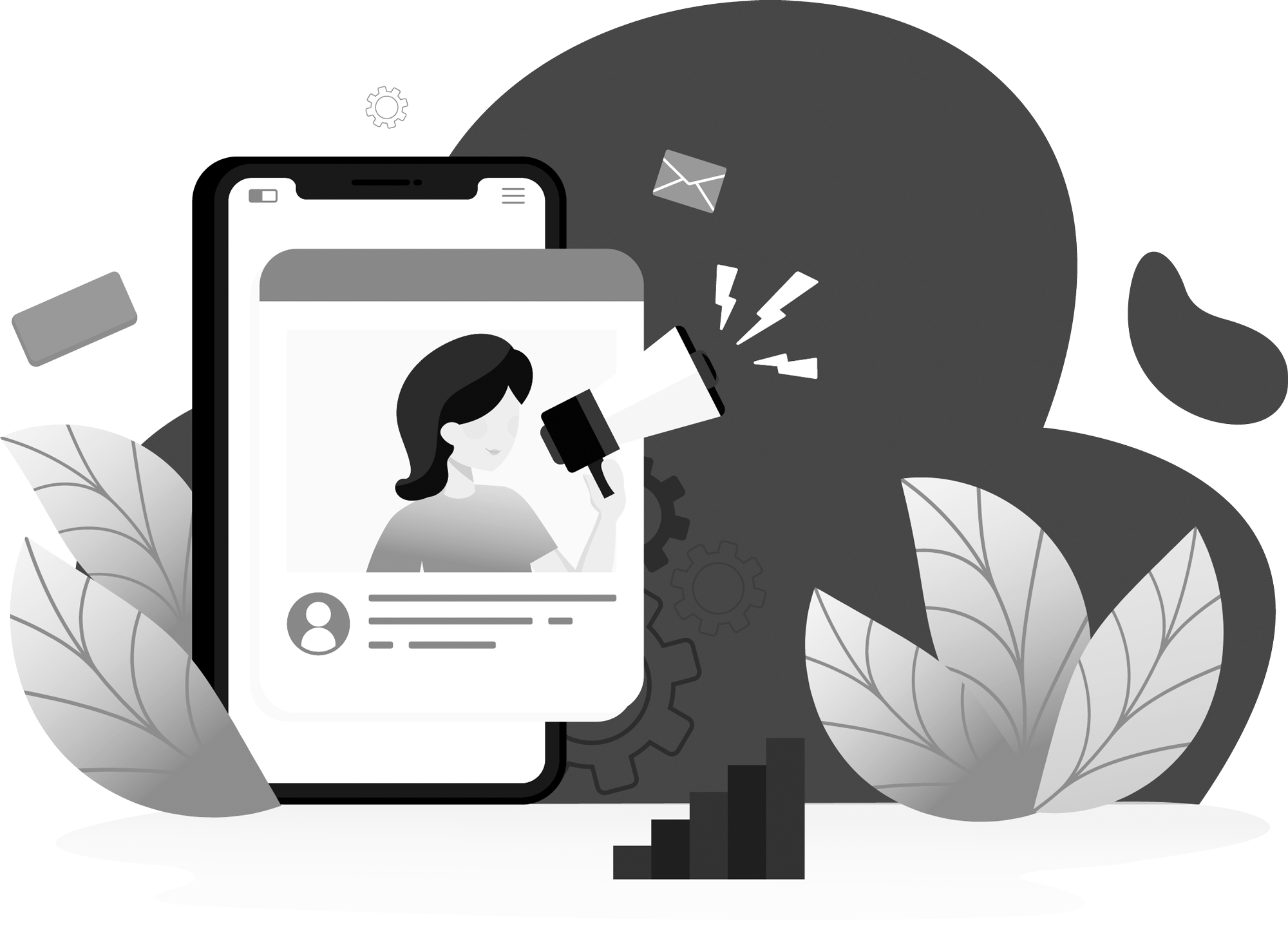 Website
Banner - Advertise the app on your venue/s home page
Landing Page -

Create a dedicated page with information about your app, the membership benefits and how to use its features
Blog - Talk about your new app in news updates
TV / Promotional Displays
Advertise the App using screens in your venue
Public Relations
Provide information about the new app to local magazines, blogs, write-ups, online hospo and tech websites
Print
LOKE has templates of promotional material you are welcome to use.
Posters - Print posters and display them at your venue
Flyers - Print flyers and hand out over the counter or put inside takeaway bags
Menu - Print your menu with info about your app or add 'how-to' leaflets on tables
Stickers - Print stickers and add to takeaway packaging or leave at your POS
Merch - Print T-shirts, hats or aprons for staff members
Receipts - Print a voucher code on all receipts - this is super effective!
Face to Face
Staff are you most valuable promotional tool, make sure they know how to use the app "Are you paying with our easy to use app today?" will double your downloads
Make staff discounts available only through your app - this is a great way to ensure staff understand the app from a customers perspective and builds familiarity.

Setup staff loyalty promotions - the more staff engage and like the app, the more they will promote it.

Offer a reward to the store with the most transactions
Have promoters help people download while they wait in line
Ambassadors - Ask people who resonate with your business to get involved in your app launch
Vouchers
Replace food/drink vouchers with app vouchers and rewards
Turn off bar tabs and only allow use of the app
Reward staff with vouchers
Allow customers to purchase vouchers
All giveaways should use the app as the method of redemption
Competitions
Inter-store Competitions - e.g. best performing site for mobile payments wins a reward.

Customer Competitions - e.g. spend/purchase X to be entered into a weekly/monthly prize draw. Winner gets a reward.
Local Partnerships
Sports Clubs

Universities

Local businesses/corporations

Offer these guys special rates or unique promotion codes or specific offers to engage them and drive local business to your store.