Before we start building your app, there are a few things we need you to provide in order to fully capture your brand. After you've provided your assets, we'll create an initial app design which will be sent back to you for review, comments and ultimately, approval.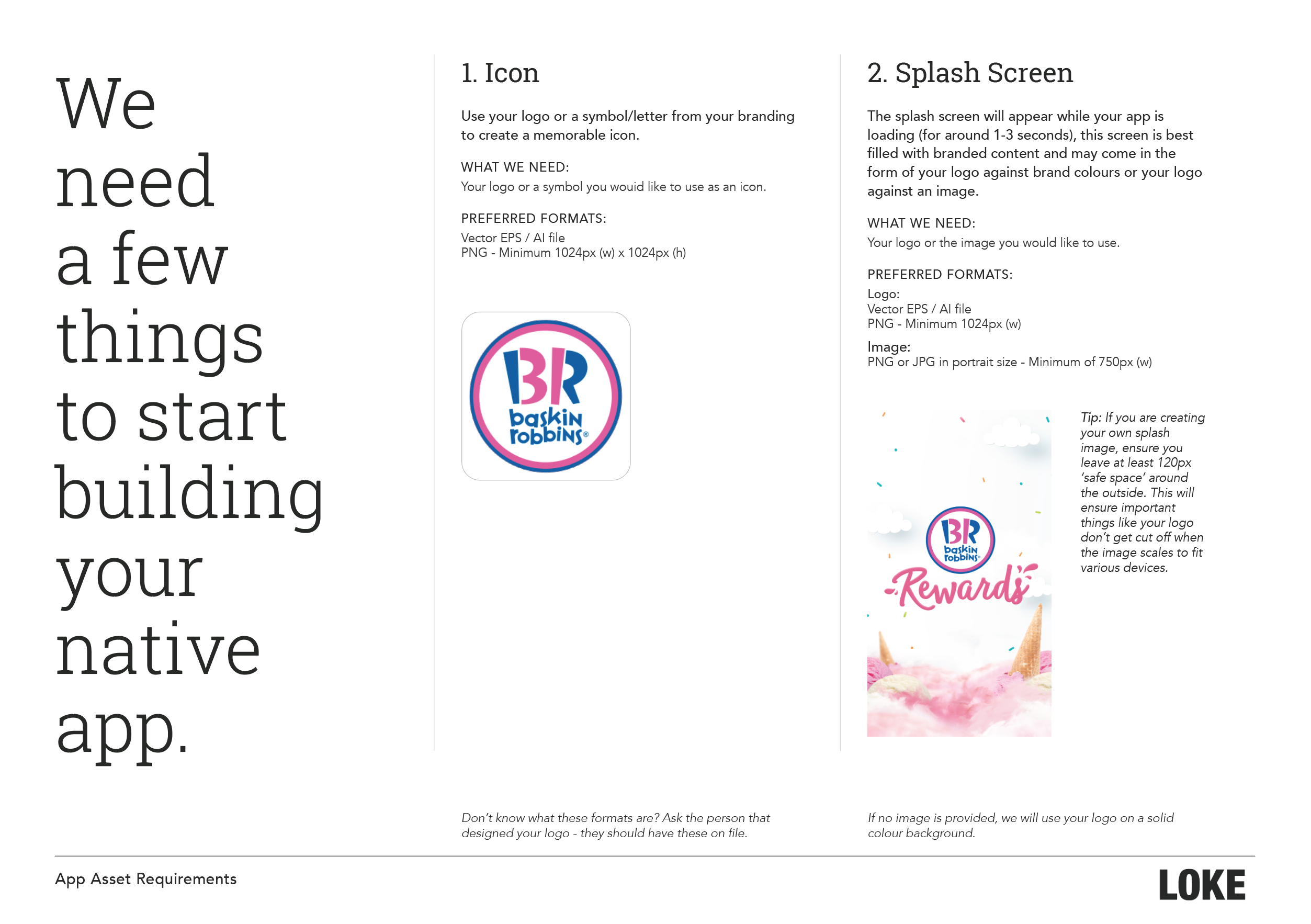 Download/View PDF - LOKE App Asset Requirements Guide
Details about formats are below however as a minimum we require:
Logo + Image for your Icon (if different from your logo)
Image for your splash screen
To help create a great app you can also provide
Brand colours
Brand fonts (must be web-based)
Style or brand guidelines
Splash screen design
Logos
We require brand logos for your app, preferred formats are:
Tip: Don't know what these formats are? Ask the person that designed your logo - they should have these on file. If you do not have access provide us what you have and let us know ASAP so we can help find a solution.
Font
By providing a brand font, we're able to customise your app to reflect your brand and brand guidelines. Please ensure that all relevant versions within the font family are supplied (i.e. light, -bold) if they are required to be used in the app design. When supply a font, please provide either:
Colours
To maintain the look and feel of your brand within your app, it is essential that the correct colours are provided. The ideal use of colours for your app include a primary and secondary colour, tertiary colours may also be included (please specify if you would to include the use of a tertiary colour). When supplying colours, please provide one of the following:
Swatches within an .EPS or .AI file

Relevant RGB values

Hex codes
Images
Please supply all required images in RGB colour mode with as high as resolution as possible, all images must be at least 365px (w) x 667px (h). When providing images, accepted formats include:
Splash Screen Image
The splash screen will appear while your app is loading (for around 1-3 seconds), this screen is best filled with branded content and may come in the form of your logo against brand colours or your logo against an image. if you would like an image, please provide a high-resolution portrait image (minimum 750px (w) x 1334px (h) and name the file 'splashscreen'), when selecting an image, take into consideration that your logo will be placed over the top.
Brand Guidelines
Providing brand guidelines or a style guide is the best way for our designers to get a feel for your brand and all the crucial aspects of it such as the correct use of elements, fonts, colours, images and more. While this document is not a necessity, it is a very helpful document that can save a lot of time when liaising with external parties. If you do not have a formatted brand guideline/style guide document and can see the benefits of having one, this a service that we can also provide.
Promotional Cards
We recommend your promotional cards are created at 1024px (w) x 576px (h) to ensure excellent quality for all users. At a very minimum, upload images over 612px (w)
If you have any questions contact the team - support@loke.com.au