The side navigation in your app is a unique opportunity to channel the important information and features about your business into your customer's hand. Examples of this include:
Guest list submissions
Food & Beverage menus
Online table reservations
Customer web-page
To coordinate this please email support@loke.com.au with your app and business name and the following details:
Menu item name
This will be the name that appears on side navigation menu. This could be for example, Guest List, Photos, Book a Table
Icons
For each menu item you can either use our standard icons or a customised icon or a combination of both.
Standard Icons
The standard icons that we have available for you to use is below. All you need to do is provide us with the colour that you want the icons in. This needs to be in either;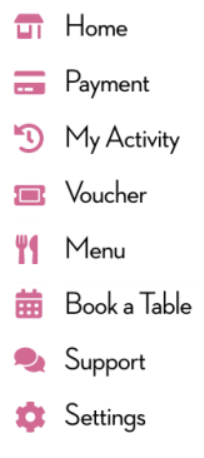 Customised Icons
For customised icons we will need an image provided to us for each menu item that you want changed. These need to be;
PNG with a transparent background
The size needs to be exactly 80 x 80 pixels - See the attachments below for an example
Content
Where the content is going to be linked to a web link, the team will need the URL. If this is a web page then we recommend ensuring this URL that is mobile optimised to ensure the content is easy to view on a mobile device and ideally a headless web page.
Related articles